Soldering iron tips come in many types. They also differ in size and shape depending on the type. However, before understanding different soldering iron tips it is necessary to understand what these tips are and how they work.
Soldering iron tips
Soldering iron tips are used in the soldering irons of a soldering kit. These irons or pencils are used to solder to pieces of metal. Soldering is a mechanical process in which two pieces of metal are joined.
To join these pieces, another metal is used in between. The metal used as filler between the two parts of the metal is called solder. To use the solder between two pieces of metal, it needs to melt first.
The melting of the solder is done with the help of a soldering iron or pen. At the end of this iron is a tip. This tip heats up and melts the solder slowly. These tips fixed at the end of a soldering iron are called soldering tips.
The use of a good soldering station is vital. Plus, the quality of the tip also decides how effective the bond between the two pieces of metal will be. Tips that have controlled temperatures can also ensure that the two pieces of metal do not melt while soldering the filler metal. Hence, it is important to use good quality soldering tips while soldering a metal.
  The picture below shows what good-quality soldering iron tips look like.
Types of soldering tips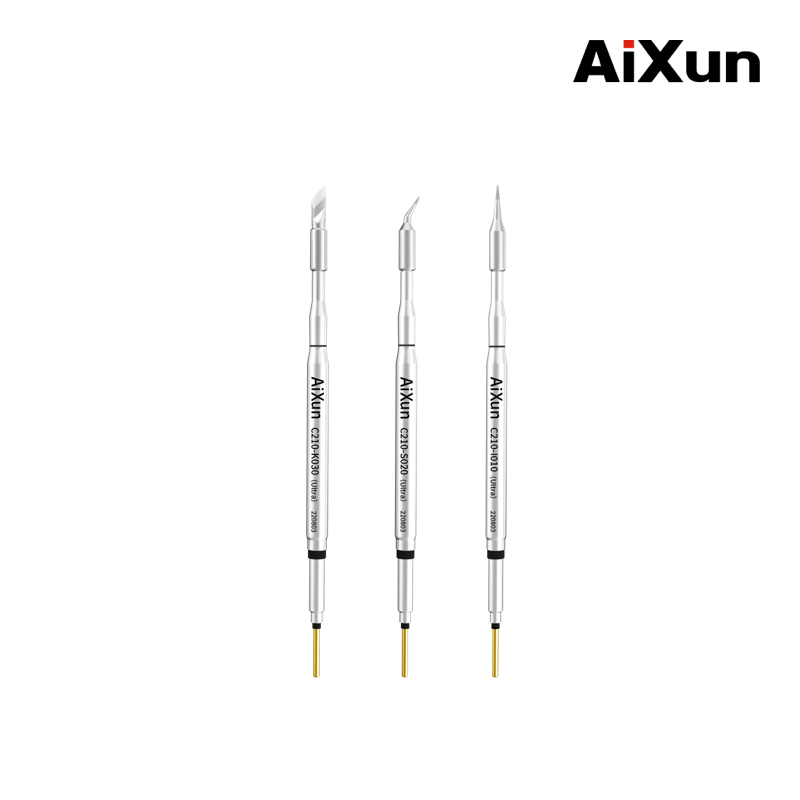 Chisel soldering tips: This type of soldering iron tips is one of the most popular types. A chisel soldering-tip can be used for different soldering tasks. Thus, if one does not wish to have multiple types of soldering tips, one can buy a chisel soldering tip.
The shape of a chisel tip makes it a versatile soldering tip. The tip has a tapered end. Thus, it can get in the corners and small spaces of the filler metal whenever needed.
Chisel soldering tips are mostly used in soldering mount components with wide surfaces, cables, onboard connections, pass-through connections, etc.
A good thing about chisel soldering tips is that they can also be used for des-soldering. Thus, one can use the soldering-tip for both tasks.
2. Conical soldering tips: As the name suggests, a conical soldering tip has a conical end. Thus, they have a pointed end which helps in soldering the filler with precision. A conical soldering-tip is ideal for those who want to focus on precision.
These tips are often used in small spaces like wire connector applications. It is because these tips can reach places other tips cannot.
3. Hoof soldering tips: Even though these tips are not very popular, they are ideal for soldering large quantities of filler metal. These tips are designed such that it allows them to solder a greater area of the filler metal than other types of soldering tips.
These tips also have a concave bend on the back that ensures that the tip can spread the soldered filler metal evenly. Most commonly, hoof soldering tips are used for drag soldering. It is also used when the user wants to save time in soldering.